Alex and Mary King's memorial grove
To celebrate the lives of Mary King 23.7 20- 16.1.08 and her husband Alex 18.8.19- 24.1 94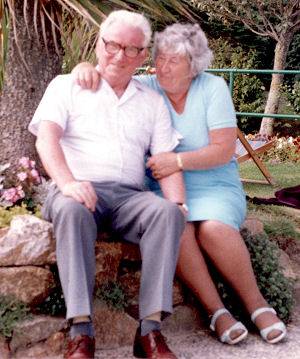 Aunt Mary was quick-witted,funny, cheerful and kind. She lived her life to the full and was "up and doing" to the very end.
Uncle Alex was unfailingly cheerful, thoughtful, kind and brave.
Lives of great men all remind us
We can make our lives sublime,
And, departing, leave behind us
Footprints on the sands of time ;
Footprints, that perhaps another,
Sailing o'er life's solemn main,
A forlorn and shipwrecked brother,
Seeing, shall take heart again.
Let us, then, be up and doing,
With a heart for any fate ;
Still achieving, still pursuing,
Learn to labor and to wait.
From A PSALM OF LIFE
By Henry Wadsworth Longfellow (1807-1882)
From David and Tricia McCall and family