A Grove of trees in the Scottish Highlands
Beloved husband, father, brother, friend

Allan Miller


2nd July 1918 - 19th May 2009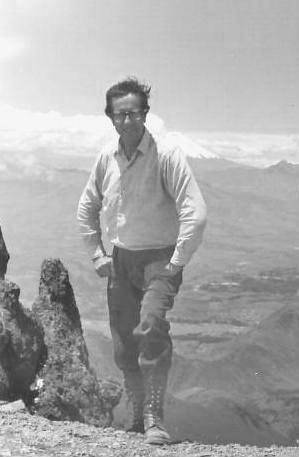 Allan Miller died in Tena, Ecuador, on the 19th May 2009.
He lived a full and adventurous life and was a remarkable man.
He is very much missed by those who knew and loved him. Our lives are all poorer for his loss.
He spent most of his last 40 years in Ecuador, where he married, but he always loved Scotland and the Highlands, where he had spent many happy years. Scientist, philosopher, lover of nature, explorer, adventurer, mountaineer; Allan would be happy climbing, driving his Rolls, searching for the lost Inca treasure, contemplating the origins of the universe, hosting a dinner party or reading Robbie Burns with a glass of Laphroaig. He had a keen intellect and just as keen a sense of humour. His passion for life is an inspiration to his children.
"A prince can mak a belted knight,
A marquis, duke, an' a' that;
But an honest man's abon his might,
Gude faith, he maunna fa' that!
For a' that, an' a' that,
Their dignities an' a' that;
The pith o' sense, an' pride o' worth,
Are higher rank than a' that.
Then let us pray that come it may,
(As come it will for a' that,)
That Sense and Worth, o'er a' the earth,
Shall bear the gree, an' a' that.
For a' that, an' a' that,
It's coming yet for a' that,
That Man to Man, the world o'er,
Shall brothers be for a' that."