Stephen Couling began volunteering with us in 2016 and soon became a group guide and an invaluable member of the team. Stephen has led 27 Conservation Weeks, 19 of which have focussed on planting trees in the Allt Ruadh Forest exclosure. Here, Stephen recounts his experiences while planting this new forest.
For the past two years I have been involved in a really wonderful and exciting project – the creation of a new forest at Dundreggan. The first trees were planted on 10 October 2016 and the last tree was planted on 8 November 2018.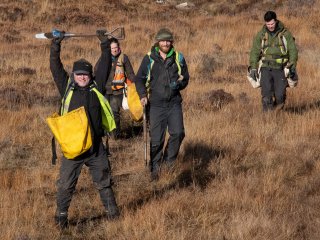 Planted by a combination of many Conservation Week volunteers and contractors, this new forest is 430 acres and is surrounded by 6.4 km of deer-proof fence. The project site was divided into 7 compartments for ease of management. Volunteers and contractors worked in all areas. In compartments 1 and 2, contractors planted downy birch and volunteers enriched the area by planting other native species. The other compartments were divided in half with each team planting the full menu of species (see full list below).
It has been really exciting to work with amazing people on this huge project – my fellow guides; the volunteers who came from near and (mostly) far – who give us a week of their time and energy and care because they want to do something to make a difference. Volunteers came from all over the world – the UK, Europe, South Africa, Russia, Australia, New Zealand, Canada and the USA. We also ran weeks for disadvantaged groups like Greenbuds (a group based in Dundee offering gardening as mental health therapy), HARP (Homeless Action Research Project based in Southend), refugees from the Govan area of Glasgow, a high school class from Bielefeld in Germany and a week of meditation and conservation run by the London Buddhist Centre. 
At the end of each week we have planted our last tree together. This is forever the tree of that group, and I have marked it in our GPS device and converted that to a Google Map reference which I have sent to participants (along with a link to a photo album of the week). 
None of this good work could be done without the unstinting labours of the nursery staff (Jill, Abbey, Emma) and their many and various helpers (temporary staff, trainees, weekly and day volunteers) under the overall management of Douglas, Operations Manager of the Dundreggan Estate. Plus, the trees and fertiliser would not have got up to the hill without Allan driving them up there.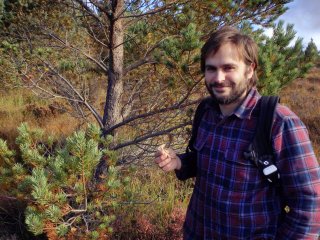 In recent years there has been a growing recognition, and much research, into the importance and existence of the mycorrhizal layer in the soil – that network of fungi whose symbiotic relationship with trees enables the transfer of minerals and food from one to another, an immense communication network through the soil. On one weeks we hosted Jake Whitson who runs Chaos Fungorum. He helped us work on a project to see if our trees would establish better with an inoculation of fungal spores harvested from the hills of Dundreggan. He took samples home and provided us with (many) tubs of ground charcoal containing the spores of local fungi which have been used in our planting. Monitoring these sites over the next few years will show how successful this has been.
I have memories of beautiful days, the clear light of frosty mornings, the bright rays of sunshine like searchlights from behind distant clouds, pouring rain, snow, sleet and mud; of song and laughter, of deep conversations about the state of the world, each other, and how we are creating something precious that will outlast all of us; of dedicating trees to loved ones who have departed this life; of long walks up the hill and down again.
We have watched deer (outside the fence), ravens, buzzards, skylarks, finches and many other small birds, plus mountain hares and – most especially – we have gloried in the young Golden Eagle that has made this area it's home. One day we hope to see two of them sliding across the wide sky.
For me personally, this has been one of the best projects I have done in my life. I have spent 19 weeks with volunteers in this forest; and 9 days as a contractor – in all a total of 70 days over the past two years. If I am granted a long life, I will delight in its growth (I do already) and will be walking through its glorious glades for years to come.
And for those of you who have joined me in this adventure – keep an eye on Google Earth – one day they will fly over and take another photograph and we'll see the new Allt Ruadh forest from the air.
Stephen Couling
Planted in the Allt Ruadh forest
Alder, aspen, bird cherry, blackthorn, creeping willow, dark leaved willow, downy birch, downy willow, dwarf birch, eared willow, elm, guelder rose, hazel, holly, juniper, oak, rowan, Scots pine, tea leaved willow, wild cherry and woolly willow.