Trainee Focus – Eilidh, tree nursery horticulture trainee
Here, we speak with tree nursery horticulture trainee Eilidh to find out how she's getting on.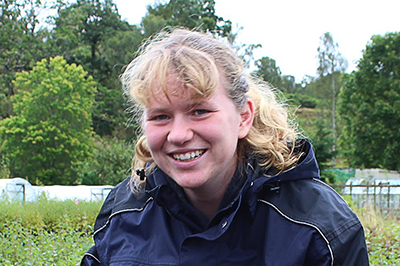 I have lived in Gairloch, Wester Ross for most of my life. I have always enjoyed being outdoors. This is where I'd much rather be. Since leaving school I have done a woodland operations college course, worked at a riding centre and volunteered with 'Riding for the Disabled' and at Beinn Eighe National Nature Reserve. It gave me the idea of working with Trees for Life. I don't think there is anything more important for planet Earth than planting trees so I'm very grateful to have this opportunity.
What did you know about rewilding before you started at Trees for Life?
During my time volunteering with Scottish Natural Heritage at the Beinn Eighe National Nature Reserve, I was involved in rewilding. I helped with restructuring of the woodland plantation to make it more natural and to increase biodiversity. I also did a wee bit of work in the tree nursery there and helped to remove non-native species from the reserve.
How does your role fit into the wider rewilding landscape?
As a tree nursery and horticulture trainee, I get to be involved with all aspects of growing trees to help rewild Scotland. I am learning about seed collection from a range of native tree species, propagating aspen, looking after the young trees and preparing them for planting out on the hill.
What has been the highlight of your traineeship so far?
I have enjoyed all the tasks I have done on my traineeship so far and I'm learning loads of new skills. I particularly enjoy seed collecting because I like being out on the hill. I have collected hazelnuts, and stratified them in pots of compost. I have also collected birch catkins and dried them out in order to remove the seeds.
What has been the biggest surprise?
I haven't really had a big surprise. I came to Dundreggan with an open mind and ready to learn from the Trees for Life staff.
The Trees for Life values are: ground-breaking; collaborative; and pragmatic. How do you see yourself exploring these values through your traineeship?
I see myself working collaboratively with staff, volunteers and my fellow trainees at Trees for Life and also look forward to the opportunity of working with partner organisations. The traineeship gives me lots of opportunities to learn practical skills that will make an effective contribution to rewilding projects.
The Skills for Rewilding programme is supported by the National Lottery Heritage Fund.